With UK rent collection for high street rentals taking a dip for the first time in two years, and ongoing whispers of an economic downturn in the face of record-high inflation and the rising cost of living, many business owners are left wondering how to break into an already wavering commercial landscape.
If you're looking to give your business its brick-and-mortar debut, but hesitating due to upfront costs or intimidating leasehold agreements, opening a pop-up shop may be a lucrative middle-ground to get your foot in the door, while experiencing whether this is the right format for you and your business.
On this page
What is a Pop-up Shop?
A pop-up shop is a temporary retail space that allows businesses to showcase their products or services to a new audience. For small businesses, pop-up shops can be a super cost-effective way to test new markets, generate buzz, and increase sales.
In this guide, we'll aim to provide a step-by-step process for setting up a successful pop-up shop, along with some of our fave creative examples to spark your inspiration.
Define Your Goals
Before you start planning your pop-up shop, you need to define your goals. What do you hope to achieve with this temporary retail space? Are you simply testing the waters before taking the leap to a more permanent retail space? Do you want to increase brand awareness, generate sales, or test a new market?
Perhaps you have a new or limited product line you'd like to launch with a fanfare, and an exclusive Pop-Up is a fun way to generate buzz and excitement, while familiarising local customers with your product line. Understanding your goals will help you determine the best location, design, and marketing strategy for your pop-up shop.
Choose a Location
The location of your pop-up shop is critical to its success. Look for spaces that are in high-traffic areas, have good foot traffic, and are easily accessible by public transportation. Consider renting a space that's close to other complementary businesses, as this can help draw in more customers. Also consider the kind of crowds you'd like to attract. For a more boutique shopping experience, a small high-street space like CINTA's 2021 London pop-up could be the vibe for you.
Alternatively, perhaps a unit or stall set-up lends itself better to your brand or the products you're trying to sell. Consider how the space, storage, and layout will work together to best showcase your brand
Set a Budget
Setting a budget for your pop-up shop is essential. Determine how much you can afford to spend on rent, staffing, inventory, and marketing. Make sure to account for any additional costs, such as insurance and permits. Setting a budget will help you stay on track and ensure that your pop-up shop is profitable.
Also, remember that rental costs will vary wildly depending on location. Spot with higher footfall will potentially set your budget back, but may prove more lucrative in the long term. More hidden locales will prove more cost-effective upfront, but will require greater marketing and awareness efforts to signpost customers and encourage further footfall, eating up budget in the form of printing costs and paid advertising.
Design Your Space
The design of your pop-up shop is critical to attracting customers and generating sales. Consider the layout, colour scheme, and lighting of your space. Use signage and branding to make your pop-up stand out from the competition. Make sure to create a welcoming and engaging environment that encourages customers to browse and shop. Perhaps you can run with a seasonal theme, or maybe your product line tells its own story.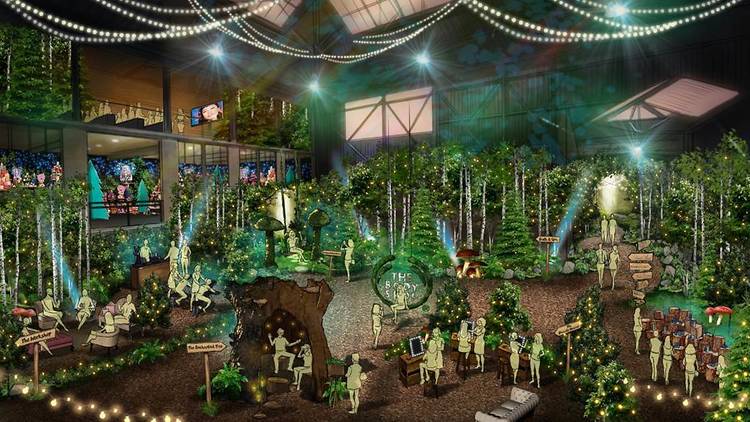 In 2018, The Body Shop held an exclusive pop-up event in a warehouse in Shoreditch to promote and showcase their range and seasonal exclusives in time for Christmas. The theme: Enchanted Forest. This saw the brand constructing a full-blown forest in the heart of east London, in which visitors could sample and shop their favourite products, and enjoy talks with experts alongside makeovers, skin consultations, candle-lit yoga classes, and more.
While most independent brands won't have a budget that comes even close to the kind required to plan an event like this, there's so much to take away here in terms of the value added to customers who attend with pop-up exclusive products, freebies, and activities designed to draw people in. We love the commitment to a cosy, easily recognisable, and totally Instagrammable theme. With this in mind, consider how can you catch the eye of passersby with your unique brand pop-up.
Stock Your Inventory
Now for the logistics. Decide what products or services you want to offer at your pop-up shop. Are you looking to draw awareness to your full range, a limited product line, or a new collection?
Make sure to stock enough inventory to meet demand, but not so much that you're left with unsold merchandise at the end of your lease. Make sure the layout of your store accounts for excess product storage for when shelves need a top-up, and use this to calculate how much stock to bring within the allotted time. Consider offering special promotions, discounts, or freebies to entice customers to make a purchase, even better if this is exclusive to your pop-up. Give customers a reason to go out of their way for you and your brand.
Hire Staff
Depending on the size of your pop-up shop, you may need to hire staff to help run the space. While for many small business owners, being a one-man band is the normal and natural way of doing things, consider an extra pair of hands to account for breaks, as well as setting up and closing your pop-up at the end of the day.
Be sure to enlist employees who are knowledgeable and passionate about your products or services, and can provide exceptional customer service. Make sure to train your staff on how to use your point-of-sale system and any other equipment they'll be using.
Market Your Pop-Up Shop
Marketing is critical to the success of your pop-up shop. Social media, email marketing, and other promotional channels such as Google Ads can create buzz and generate interest when it comes to exclusive events. Consider partnering with other complementary businesses to co-promote your pop-up shop.
This could look like resharing posts, collaborating on giveaways and newsletters, to cocreating a pop-up that brings together two unique brands to build a one-off space where similar customers can experience the products they love, while discovering a new business. The past few years have seen some truly iconic brand collaborations, with the most successful combining brands with shared values and aesthetics, to create an aligned and innovative vision.
A great example of this is coming to London this summer, where Selfridges is teaming up with pre-owned furniture marketplace Vinterior to host a pop-up within their Oxford Street store. Featuring one-of-a-kind items, including classic mid-century modern furniture and must-have icons, the event is set to offer customers something a little different, and positions the brand in a favourably sustainable light.
Whether your pop-up is a collaborative effort, or you're riding solo to push your own brand, create a sense of urgency by promoting limited-time offers or exclusive products. Make sure your pop-up branding and announcements stand out from the rest of your posts, and consider setting up an RSVP to gauge numbers and generate excitement for early visitors.
Measure Your Results
Once your pop-up shop is up and running, it's important to measure your results. Track sales, foot traffic, and customer feedback to determine if your pop-up shop was a success. Perhaps consider keeping an anonymous feedback box on your shop floor for people to drop into, send surveys out to customers who RSVP'd, or gauge opinions, interest, and feedback via social media.
Use this information to refine your strategy and make improvements for your next pop-up shop, or to gauge whether taking up a more permanent high-street residence could be the next step for your business. Equally, sticking to e-commerce with the odd seasonal pop-up scheduled in could also be fun and lucrative. Find what works best for your business, and run with it.
Not registered with CREOATE yet? Sign up now and start selling wholesale with us today.
Read More Articles:
---
Browse Popular Categories at CREOATE: Wholesale Jewellery | Wholesale Gifts | Wholesale Stationery | Wholesale Beauty Products | Wholesale Mugs | Wholesale Homeware | Wholesale Pet Supplies | Wholesale Gourmet Food | Wholesale Garden & Outdoor | Wholesale Baby & Kids Products